Biography

Eugene Curran Kelly was born on the 23rd of August, 1912 in Pittsburg, PA. He was the third youngest of five children to Harriet and James Kelly. Gene had a strong Irish background which put much discrimination upon his family. James Kelly, a traveling sales man made a moderately fair living for his family. Harriet stayed at home trying to provide the best for her family. The Kelly family was to have the best they could get, even if it meant her walking everywhere to find it. Jay, Jim, Gene, Louise, and Fred where taken to dancing classes from a very young age. Often after Classes, Gene and Fred would be harassed by local bullies while walking home. Both would come home worn out and bloodied.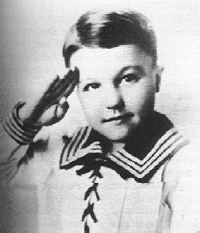 Gene despised the lessons until highscool, when the girls started noticing him more. He played hockey, football, gymnastics, and his favorite, baseball. During high school, Gene was very interested in all the sports, which he was very good at. He was very, competitive and it showed.
After graduating high school, Gene took odd-jobs to help support his family during the depression. He dug ditches, and was a soda jerk. Fred and Gene would do amateur nights at local contests and "cloops" as gene called them (a club and a chicken coop). They usually won with their dancing and comedy act.
In 1932 after working as a dance instructor for a while, the Gene Kelly Studio of Dance was founded with Gene and siblings as teachers, and Harriet as accountant. He would make the time to attend the University of Pittsburgh, and teach as well. He choreographed many church events and performances at his university.
Gene graduated from the University of Pittsburgh with a degree in economics. He decided to study law, but after a class session, decided that dancing was what he wanted to do for the rest of his life... not law.
With
money established, Gene saw the opportunity to leave for New York and take a shot at Broadway. There he was cast in Leave it to Me, and other various shows, but his big break came with The Time of Your Life, which ran 22 weeks. Gene also worked as a choreographer on Diamond Horseshoe where he met Betsy Blair, a 16 year old aspiring actress whom had a crush on Gene from the start. Gene was seeing another young lady at the time, but after a while of meeting each other after practices Gene saw Betsy more and more.
Gene's next project was Pal Joey that ran until Hollywood had offered him a contract. Gene did not want to leave his love Betsy, so he proposed and they wed in Pennsylvania in 1941. The two newly weds left for California to pursue Genes new career.
After nearly five months the Kelly's had the time of there life doing "nothing". This frustrated him, for he wanted to get things done. The studios had no musicals planned which meant no work for Gene. Until Metro Goldwyn Mayer bought out his contract and set Gene to work.
After a few screen tests, Gene was cast in his first picture, For Me and My Gal, also starring Judy Garland. During the shooting of the movie, Judy would tell Gene about the movies, which later helped Gene tremendously. Gene, he was not pleased with the way some of the scene turned out. He realized that what appeared on the movies, was not at all as pleasing to the eye as it is onstage.
1942 rolled around the corner and Gene and Betsy were now proud parents of a daughter, named Kerry. Gene was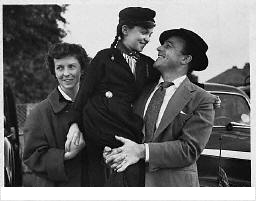 thrilled at the birth of his first child.
Two years later, Gene was cast in a major money-making movie, Cover Girl with Rita Hayworth. The success of the movie brought Gene much fame, as well as showcasing his superb choreography in his "Alter Ego" dance in which he dances with himself. In the movie his conscience won't escape him and as he looks in a window, his reflection poppes out and dances competitively with Gene. It is one of most memorable moments in Gene's career.
The next movie for Gene to do was Anchors Away with Kathryn Grayson, Jose Iturbi, and Dean Stockwell. In this movie Gene did something nobody had ever seen before, and nothing the movie producers thought could be done. Gene had the inspiration to dance with a cartoon. They used Jerry, from Tom and Jerry, danced with Gene and made cinematic history.
After the success of the movie, Gene felt it was his duty to serve in the war. MGM certainly did not want to loose their leading man, but there was nothing they could do about it. Gene was sent to a boot camp for 13 weeks enduring hardships that all the soldiers faced. He was then transferred into the photographic division in the naval air force. Gene would take shots of emergency drills on ships and submarines. People often accused Gene of getting the easy way out of the army because of his fame, and this made Gene furious. In May of 1946, Gene returned to Betsy and Kerry. For a short while Gene rented an apartment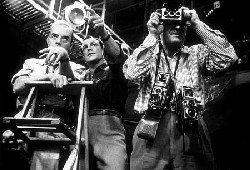 for he and Betsy while Kerry stayed with Betsy's mother and visited them often. Gene and Betsy didn't want a child getting in the way of their getaway.
After returning to California, Gene was set to work on a new musical,
Living in a Big Way, his first movie since Anchors Away. The film did moderately well in the theaters along with The Pirate, with Gene Kelly and Judy Garland, and Take Me Out to the Ball Game, with Frank Sinatra.
His next movie set him out teaming with Sinatra once again was On the Town. The movie opening was the first to be shot completely on location. Filming at famous New York City spots, and in Manhattan.
Still in a whirl of media buzz, Gene began work on An American in Paris, Costarring Leslie Carron, a young 18 year old whom Gene discovered. The film did as well as Gene hoped and An American in Paris
won Gene a a special Academy Award, as well as 6 others in support of the film.
After the enormous success of An American in Paris Gene was sent to to a movie called Singin' in the Rain. The movie at first only had a handful of songs such as, Fit as a Fiddle, All I do is Dream of You, Lucky Star, Wedding of the Painted Dolls, and Singin' in the Rain. 2 wonderful writers came in and built a script around these songs about the transition of the movies in the later 1920's from silent movies to talkies. It is a warmhearted, comedy with romance, comedy and fun. It starred Gene Kelly, Debbie Reynolds and Donld O'Conner with Gene Hagen an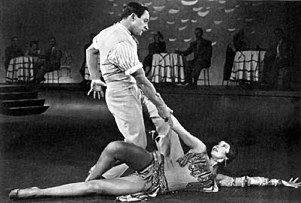 d the unknown Cyd Charisse. This movie is a major movie classic, but at the time, the success of An American In Paris seemed to suffocate the movies possible success.
After the making the film, Gene moved to Europe because of a new income tax law proposed. Gene worked on three unsuccessful films, Crest of the Wave, Devil Makes Three, and began work on Invitation to Dance,
which contained a 15 minute ballet. However, MGM delayed the release of this movie for 5 years. People labeled it an art film, when in reality it appeals to all genres. The movie was a failure in the eyes of MGM.
Gene returned to the United States with his family and began work on
Brigadoon with Cyd Charisse. This is a story about a man who falls into another world in Scottland where he meets his love and he has to choose to stay in Brigadoon, or go back to the real world. This movie has a few flaws however that effected the movies potential success as well. MGM had sound stages painted and decorated in heather to look like Scottland, and great dance scenes in the broadway show were cut out. This film received little acclaim, along with It's Always Weather.
In the 1956-57 Gene hit a curb in his life when he and Stanly Donen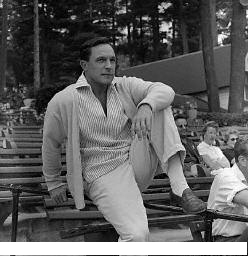 ended there friendship. Betsey wanted to grow on her own and felt that she could not with Gene. So they ended their marriage of 15 years leaving both Gene and Kerry devastated. Also MGM let down Gene tremendously when they would not lend him out to work on
Pal Joey, Cyrano de Bergerac,
and
Guys and Dolls.
In 1957 his contract was up for renual, but instead Gene made his last movie for Metro Goldwyn Meyer. The Movie
Les Girls.
Gene and his longtime assistant began a relationship, Jeannie, and in 1960, they wed. Over the next five years Gene was very busy. In 1962, his son Timothy was born. In 1964 he toured Africa with the Goodwill Tour, and in 1965 his doughtier Bridget was born.
Gene tried his hand at directing again with Guide For the Married Man, Hello Dolly, and The Cheyenne Social Club. All were wonderfully directed, but none did great in the theaters.
In 1973 Genes wife Jeannie died of cancer leaving Gene and her 2 children. From then on, Gene became mother and father of his children and would not accept work that was more than 30 minutes to get to. When his children got a little older, Gene did
That's Entertainment!
in 1974, and with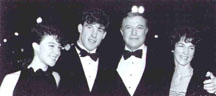 its success the sequel
That's Entertainment! II
was realized. Both depicted the history of MGM's musicals and dancers.
In the 1980's,
That's Dancing!
came out, and in 1985 Gene was honored with the Lifetime Achievement award and Kennedy Center Honors Award.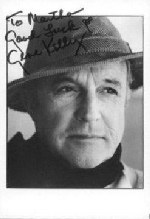 In 1990, Gene. at the age of 78, married a woman named Patricia Ward ( who was in her 30's). None of his children were present for the ceremony. In 1994, That's Entertainment! III premiered and the gray haired man, with a cane walked on the red carpet with pride of his accomplishments.
On February 2, 1996, with Patricia by his side, Gene died from a complication of a second stroke. With news of his death, TV stations played Gene's movies and clippings of him all day.
Gene is a legend in itself. His hard work, his heartache. It seems as though a piece of him is still here, warming our hearts as we watch him in his soaking wet overcoat, or his marine suit. Gene is always here, and will be forever.